Faith and Art series | Sundays at 12:15 PM
Description
Sundays at 12:15 p.m. | February 21–March 28
Guest featured artists each week and concludes with an Art Exhibition Reception
Zoom: https://us02web.zoom.us/j/84424649508?pwd=SWJkVGJ2MVl3NWpyWTdMZGIrb0ZUQT09

Join Online
---
Sunday, February 21
"He Showed Them His Hands*": Seeing God's Hands in Art
From God the Father's hand of creation in the Garden of Eden to the resurrected hands of Jesus in the Garden Tomb, this talk will explore some of the ways artists have depicted this divine feature from the ancient period to more recent times.
* John 20:20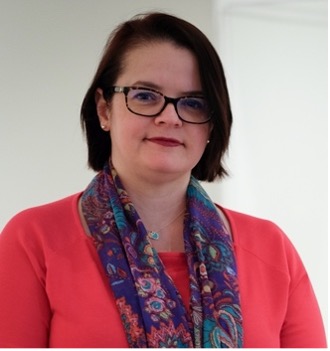 Facilitator: Tracee Glab
Tracee Glab is Curator of Collections and Exhibitions at the Flint Institute of Arts and holds an MA in art history from Wayne State University and a BA in art history from the University of Michigan-Dearborn. She has been at the FIA since 2009 and during that time, she has curated more than a dozen special exhibitions. Prior to her position in Flint, she worked at the Detroit Institute of Arts, serving as the editor of the museum's scholarly journal. Tracee has also been a Kirk member since 2014 and has served on the Board of Trustees (class of 2020).


Sunday, February 28
Faith and Creativity – "Creating in the Image of God: Creativity as a Spiritual Practice"
Join Dr. Merideth Hite Estevez to explore how creativity reminds us of our belovedness and brings us closer to our Maker. In this interactive workshop, we'll discuss what the Scriptures have to say about our Artist-God, tap into our innately creative spirit, and dive into how creation and appreciation of art are powerful tools for spiritual discovery. No prior artistic experience or background necessary!

Facilitator: Dr. Merideth Hite Estevez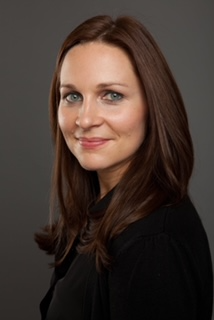 Dr. Merideth Hite Estevez is a spiritual space-maker for artists as a writer, coach, educator, and performer. Her podcast Artists for Joy was a finalist in the 2020 Podcast Awards and has been downloaded almost 10K times since its publication in April 2020. She has led hundreds of artists in communal creative recovery and discovery with her courses and small groups through Lumina Arts Incubator, an organization she founded in 2017. Merideth holds degrees in oboe from The Juilliard School and Yale University, is a trained coach in the Graydin method, and has performed with top orchestras in the US and abroad. She has served on academic faculties of numerous universities and Schools of Music, most recently as Associate Professor of Oboe at University of Delaware. When she's not creating or teaching, you'll find her attempting to speak foreign languages with a southern accent while traveling with her husband Rev. Edwin Estevez and their three year-old daughter, Eva.

Sunday, March 7
Finger Labyrinth for All Ages
Unlike a maze you can't get lost in a labyrinth! Join this workshop as an individual or a family to learn more about 'walking' a finger labyrinth. Using supplies you have around your home, artist and educator Jenny Gallo will teach you how to draw a labyrinth and embellish it with color and designs. This is a great activity for finding peace, taking time for reflection and creatively recharging as you journey through the Lenten season.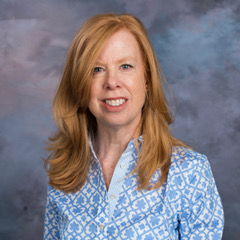 Facilitator: Jenny Gallo
Jenny Gallo is the artist and owner of Carrot Top Studio. Since 2004 Carrot Top Studio has sold unique, handcrafted ministry stoles and fine art to a global clientele. The first chapter of her professional life permitted her to teach art in Chicago, Houston and Pittsburgh. Her B.S. in Art Education was earned from The Pennsylvania State University. Jenny resides in White Lake, is married to Gary and is the mother of two adult children and a daughter-in-law.


Sunday, March 14
"What is Hands on Art in a World Without Touch?"
"As a graphic artist and art educator the new challenges of creating illustrations under the constraints of Covid-19 has resulted is a shift in how images are received and how I teach design and illustration at the college level. I believe the social and political unrest that have roiled our society in 2020 and 2021 are a direct effect of our physical separation from each other. This separation or lack of "touch" has created a strain on our normal assumptions about what images mean and what images are acceptable. Showing several visual examples of how this change has occurred I will take a virtual walk through 2020 talking about how meaning and art have changed for me.
This presentation will also address challenges faced as an art educator. The stresses associated with feeling disconnected from our students has caused many of us as educators to feel unsure of ourselves as though we had returned to our first year of teaching. Questions and anxieties about whether we are connecting with students are a constant theme. Without the metaphorical "touch" of being in the same room with students we are left with a sense of disconnection and sometimes failure as we reach out to students who are also experiencing insecurities both real and imagined as they shelter at home taking classes. In response we have learned to create art in a virtual world using the "touch" of a screen to connect, to explore, to explain, and to inspire."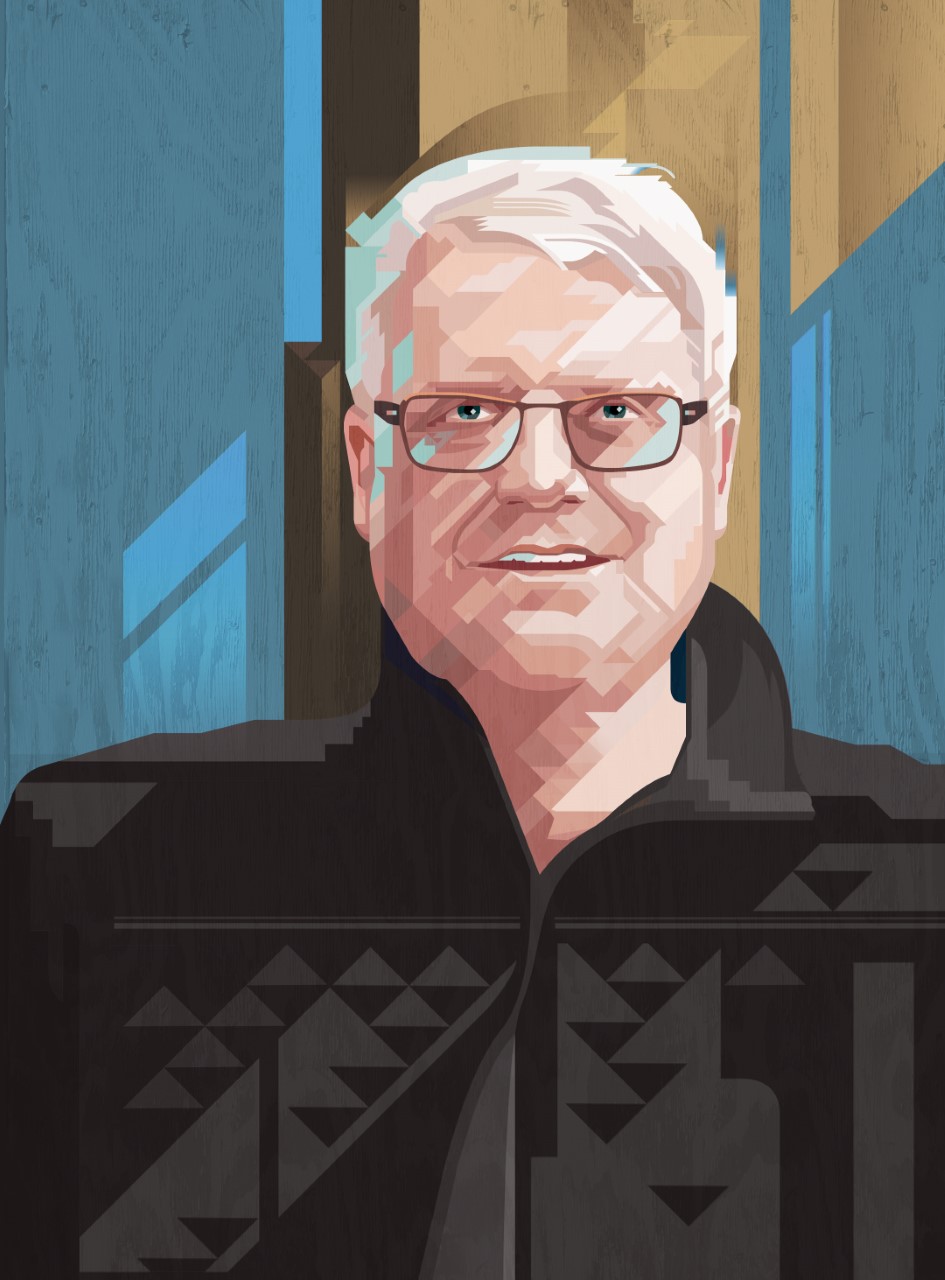 Facilitator: Garth Glazier
Garth Glazier is an illustrator, art educator, and a fine artist. After Graduating from Alma College in 1980 with a degree in Design and Printmaking Garth returned to the Detroit area to work as a commercial graphic artist for the next 35 years creating illustrations and graphics for national clients as well as the auto industry. His philosophy is, "regardless of the technology used Illustration is and always will be about storytelling." Garth has created illustrations for the book, magazine, and advertising. Specializing in Procreate, Adobe Photoshop and Illustrator as well as traditional media including ink and watercolor he creates images. that evoke, explain, and inspire. Also a writer, he achieved a Masters in Creative Non-Fiction from Oakland University in 2012.

Sunday, March 21
Lisa Mistiuk
"For this Lent season, I wanted to reflect and share on God covering His people, as a hen covers a chick with her wings, and how the covering of God culminates in the cross as Christ graciously provides a sinless covering for all who turn to Him. For my art piece I will focus on this metaphorical description of God's care for his people."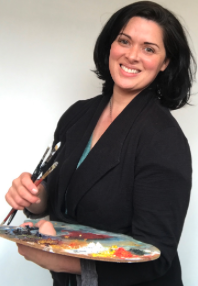 Facilitator: Lisa Mistiuk
Lisa Mistiuk began her serious study of art in Germany. During this time she worked closely with several artists and professors developing her figure drawing skills. In 2004 she received a portfolio scholarship in Amsterdam to study art at the Academy of Art University in San Francisco. Upon returning to her native California she began her studies at the Academy where she focused on oil painting, receiving her BFA with honors in 2009.
Lisa paints primarily in oils with an emphasis on the elements that make up our everyday lives. She has participated in various group and solo shows in the US and is pleased to have her work collected and commissioned internationally. She currently resides in Southern California with her husband and children. Her hope with her work is to continue discovering the meaning and beauty in everyday life and to share these discoveries with others.

Sunday, March 28
"In Good Hands" Art Exhibition Reception
Over the six weeks of Lent, our artists have worked long and hard to create art works that will capture your heart and soul. They focused on God's healing touch in our lives—God's redeeming, ever-creating, comforting and loving hands. When we think about hands, we think about physical touch; we think about care and love. They asked the following questions as they created their art pieces:
Where do I see God's healing/comforting/loving touch hands during the pandemic?
Where do I see people's touches (metaphorically as well as literally) that's healing and loving during this pandemic?
What depiction of physical hands might I find inspiring—either in the Bible (praying hands, crucified hands, saving hands, etc) or in our world today?
During this reception, you'll hear from our artists as they talk about their creative process and the finished art work.