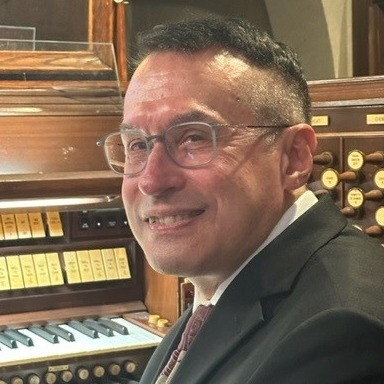 David Enos
Interim Associate Organist and Carillonist
Email: denos@kirkinthehills.org
A native of the Syracuse, New York area, David Enos is a graduate of Westminster Choir College and the Eastman School of Music. He was Organist and Director of Music at St. James Church, Syracuse, and later Music Associate and Carillonneur at St. Hugo of the Hills, Bloomfield Hills. While the St. Hugo tower and carillon were being planned and constructed, he studied carillon with Julia Walton, and the Kirk very kindly made its carillon and practice clavier available for his lessons and practice.
David plays the 8 am service in Cedarholm Chapel, accompanies the Chancel Choir and plays the carillon for the 9 am and 11 am services. He is also the primary organist for weddings and memorial services at the Kirk.
Since "retiring" in 2017, David has enjoyed being a substitute organist at many churches in metro Detroit.
In recital, David has performed several times at St. Patrick's Cathedral, New York City, as well as various other locations. He has also played in regional conventions of the American Guild of Organists, and has recorded for the nationally-broadcast radio program, "Pipedreams." David has given carillon recitals in France, Belgium, and metro Detroit.
Besides being a full-fledged organ nut, he enjoys collecting recordings and European travel.
His organ studies have been with George Decker, Donald McDonald, Joan Lippincott, and David Craighead.