From Famine to Flight - Adult Formation Class
October 2, 2022 10:00am
Address: Kirk in the Hills, 1340 West Long Lake Road, Bloomfield Hills, MI US 48302
Room: St. Andrew's Room
Join us in a return to robust adult learning this Fall. The Adult Ministry Committee has carefully curated a series about the importance of Egypt in our Bible.
It was a famine that drove Abram into Egypt. Egypt is from where Moses delivered the Israelites out of captivity, where Joseph was imprisoned, dreamed, was put in charge of Egypt, and forgave his brothers. Egypt is where the oldest "finds" of the Israelites have been uncovered. Egypt was where the Holy Family fled to after Joseph's dream. It was in Egypt where St. Mark founded our oldest Christian church, the Egyptian Coptic Church.
We will learn pieces of Egypt's story from interdisciplinary perspectives through a sleight of lectures, archeological study, Kirk art study, and song. We will be blessed to learn from an archeologist, a university professor, an art museum director, a Coptic Priest, a Jewish Cantor, pastors, singers, and talented lay leaders.
This class will be a great appetizer for those attending the Kirk's Pilgrimage to Egypt in February 2023.
If you yearn to dig deeper into the history of our faith, join us at 10:00 a.m. in the Saint Andrew's room. This class begins on September 25. A zoom link will be emailed upon registration.
Check out details on some of the individual classes and speakers below:
---
Series and Speaker Details
September 25 • Dr. Howard Lupovitch
Egypt in the Jewish imagination: a Three-Thousand Year Perspective
Topic: Egypt's Importance in the Bible
The ancient Kingdom of Egypt played a pivotal role in the birth and development of the Jewish People. In this lecture, we explore the image of Egypt in the works of the Hebrew Bible and Rabbinic writings.
About Dr. Howard Lupovitch
Professor Howard Lupovitch is an associate professor of history and director of the Cohn-Haddow Center for Judaic Studies. He specializes in modern Jewish History, specifically the Jews of Hungary and the Habsburg Monarchy. He recently completed a history of the Jews of Budapest and is currently writing a history of the Neolog Movement, Hungarian Jewry's progressive wing, and a history of the Kohut Family.
October 2 • Marilyn Borst
Topic: Assembly of Presbyterian Churches in Iraq
More course information to come!
About Marilyn Borst
Marilyn Borst is Associate Director for Partnership Development at the Outreach Foundation. She works with churches around the United States to help them discern God's call to global engagement while connecting them to that work alongside the Global Church in Africa, Latin America and the Caribbean, Asia and the Middle East – a particular area of specialty for her. She travels extensively, nurturing relationships with church leaders, assessing ministry initiatives and leading short-term vision teams. Just within the past five years, her journeys have taken her to Lebanon, Syria, Iraq, Egypt, Oman, Israel/Palestine, Cuba, Pakistan, Russia, Mozambique, Kenya, Rwanda and Malawi. Prior to joining The Outreach Foundation staff, Marilyn served for over six years as Director of Global Ministry at Peachtree Presbyterian Church in Atlanta, where she oversaw the international partnerships of the PC(USA)'s largest congregation in over 33 countries. Marilyn holds a B.A. in Classical Studies from Calvin College (Grand Rapids, MI), an M.A. in Art History from Michigan State University, and an M.A. in Theology from St. Thomas University in Houston. She has participated in four archaeological digs in Jordan and Egypt and taught as adjunct faculty at the University of Houston for 20 years. She is ordained as a Presbyterian elder.
October 9 • Patrick Megally
The Coptic Church of Alexandria
Topic: The Coptic Church's History
The Coptic Church is an Oriental Orthodox Christian church based in Egypt, servicing Africa and the Middle East.
Join us for a deep dive into the history of the Coptic Church, o
ne of the earliest, if not the first Christian church. Th
is course will cover an overview of the Coptic Orthodox Church (the Church of Alexandria). With a brief history of the church, some of the beliefs, some unique rites, and practices, etc.. Also, an overview of the Flight of the Holy Family to Egypt.
About Patrick Megally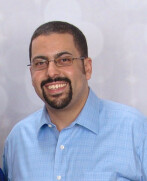 He is the Youth & Young Adult Activities Ministry Leader at St. Mark's where he also leads the Preparation Program that prepares the next leaders at the church. Patrick coordinates and teaches the Catechism course for all converts and coordinates the marriage Preparation Retreats for their engaged couples.
October 16 •
Dr. Theodore Hiebert
Egypt Documents the Earliest Israelites
Topic: Key Biblical Finds through Archeological digs in Egypt
Egypt provides us with the earliest documentation in ancient history for the existence of the people of Israel living in the land of Canaan. Following a military campaign to Canaan, the Pharaoh Merenptah (1213-1203 BC) documented his triumphs thereby reporting his battle against the Israelites on his Victory Stela (now in the National Museum in Cairo), and by picturing this battle on a wall of the Karnak Temple in Luxor. We'll discuss the importance of these remarkable artifacts for our knowledge of biblical history and Egypt's role in it.
About Dr. Hiebert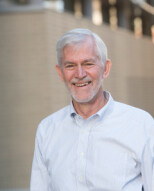 In 2003, Ted Hiebert was named Francis A. McGaw Professor of Old Testament at McCormick Theological Seminary, where he has taught since 1995. Before joining McCormick's faculty, he taught at Harvard Divinity School, Louisiana State University, Gustavus Adolphus College, Boston College, St. John's Seminary, Tabor College, and Numan Teachers College in Numan, Nigeria. Among the courses he regularly teaches at McCormick are Genesis, Isaiah, Job and Its Modern Interpreters, Biblical Perspectives on Nature, and Biblical Perspectives on Multiculturalism.

Hiebert has a Ph.D. in Classical Hebrew and Hebrew Scriptures from Harvard University, a M.Div. from Princeton Theological Seminary, and a B.A. in English Literature from Fresno Pacific University. He has been an American Schools of Oriental Research/National Endowment for the Humanities Research Fellow at the W. F. Albright Institute of Archaeological Research in Jerusalem.

Ted's research has been primarily in the Pentateuch and the Prophets. His current projects include a commentary on Genesis for the Abingdon Old Testament Commentary series and a commentary on Joel for Hermeneia.

Ted is a member of the Mennonite Church and has served as pastor of the Boston Mennonite Congregation. He is a frequent lecturer and teacher in adult education programs in churches in the Chicago area. He has been a director of the Chicago Theological Initiative in Eco-Justice Ministry and is a consultant on theological education at the Wabash Center for Teaching and Learning in Theology and Religion.

Ted lives in Homewood, Illinois, with Paula Sharpe Hiebert, who teaches biblical studies at Loyola University and for the Archdiocese of Chicago. They have two children, Nicholas and Mary Claire.
October 23 •
Tracee Glab
Wandering in the Kirk
Topic:
Old Testament and Egyptian Art & Artifacts
Join us on a walking tour of art in the Kirk, focusing on works depicting Moses. Through stained glass windows and paintings, we'll look at the various depictions of this major figure of the Bible, from his early life in Egypt through the desert wanderings. This walking tour is hosted by Tracee Glab, the Executive Director of the Flint Institute of Arts and Kirk Member.
*Wear comfortable shoes as this tour will take about 30 to 40 minutes. Seating near artworks discussed is limited.
About Tracee Glab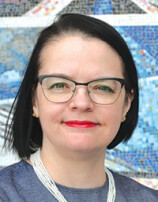 Tracee Glab is the Executive Director at the Flint Institute of Arts. She has overseen more than 100 exhibitions and curated 40 exhibitions, working with the community on such exhibitions as Jerry Taliaferro's Women of a New Tribe (2017) and Sons: Seeing the Modern African American Male (2022). She has collaborated with other Michigan institutions for Common Ground: African American Art from the Flint Institute of Arts, Kalamazoo Institute of Arts, and Muskegon Museum of Art (2015–16) and with University of Michigan-Flint faculty on Self-Expression (2017). She has worked extensively with contemporary artists, both locally and internationally. Glab has also overseen fifteen publications, contributing to the 50th-anniversary book Magnificence and Awe: Renaissance and Baroque Art in the Viola E. Bray Gallery (2011) among others. Her interests include exploring the ways objects of various time periods and cultures can connect to people thematically, most recently culminating in a lecture on "Beautiful Death." Prior to her role at the FIA, she worked for 10 years at the Detroit Institute of Arts across many departments, including curatorial, publications, and education. Glab has her MA in Art History from Wayne State University and BA in Art History from University of Michigan-Dearborn. Glab was also honored with two competitive travel grants to London and Oxford to conduct her master's thesis research on the 19th century British painter Dante Gabriel Rossetti.
October 30 • Nicole Joseph & Hazzan Dan Gross
Topic: Old Testament and Exodus Psalms
More course information to come!
About Nicole Joseph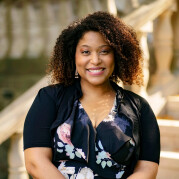 Since her arrival as a staff singer in 2006, Nicole Joseph has worn many hats in service to the music department at Kirk in the Hills. In addition to singing in the Chancel Choir, she began assisting the youth choirs in 2010. She is now the Soprano Section leader and Associate Director of Music for Children's Choirs. Nicole received her Master of Music degree and Specialist Degree in Voice from the University of Michigan, and Bachelor of Music degree in Voice from Pacific Lutheran University. Nicole will oversee the music program at Kirk in the Hills which includes making decisions for worship music and anthems, special events, and the directorship of the youth choir programs. She served in a similar capacity in early2019, during Glenn Miller's sabbatical. This if a full time position.
As a professional solo artist Nicole has delighted audiences in a wide range of performances across the country. She received critical acclaim for many recent opera performances, including Magda Sorel (The Consul), with Detroit's Opera MODO, for which she earned recognition with a nomination for the 2019 Wilde Award for Best Opera Performance. She was also featured as Blanche in Poulenc's Dialogue of the Carmelites, an Opera MODO production presented at Kirk in the Hills in February 2020. The 2017-2018 season saw Nicole's Michigan Opera Theatre mainstage debut as Hattie in Daniel Sonenberg's The Summer King, and she has also been featured with Michigan Opera Theatre's Community Outreach programs.
About Hazzan Dan Gross

Hazzan Daniel Gross was born in Boston and raised in St. Louis. He received his cantorial investiture from the Jewish Theological Seminary in 2009 and soon after became the cantor of Adat Shalom Synagogue. He quickly established himself as a dynamic presence in the Synagogue, the Detroit Jewish community and in the American cantorate. As a Shaliach Tzibbur (prayer leader), Hazzan Gross creates an atmosphere for Adat Shalom's services that is engaging and participatory, melding traditional and contemporary congregational melodies, glimpses of hazzanut and original melodies. As an educator, Hazzan Gross is very active in the Adat Shalom Beth Achim Learning Community, leading the school in prayer and teaching our students Jewish prayer and music. He oversees the congregational B'nai Mitzvah program and provides adults of all ages educational opportunities throughout the year.
Passionate about pastoral care, Hazzan Gross is a regular presence in our congregants' lives through bikkur cholim visits. He is also instrumental in bringing quality concert programming to Adat Shalom. Hazzan Gross received a B.A. in music and pre-medical studies from the University of Pennsylvania, a Master of Music degree from Manhattan School of Music, and an Artist Diploma from The Juilliard School where he was a member of the prestigious Juilliard Opera Center. During his career as an opera singer, Hazzan Gross was in high demand for his powerful lyric baritone voice. He performed nationwide with premier orchestras, chamber music organizations, and opera companies. Hazzan Gross is an avid recitalist and has concertized in numerous settings throughout the country. Hazzan Gross is an accomplished composer and has written numerous prayer, song and choral settings. His cantata, I Believe – A Shoah Requiem, had its world premiere at Detroit's acclaimed Orchestra Hall in April 2013. I Believe is unique in that it is the first complete musical liturgy dedicated to Yom HaShoah. Hazzan Gross is a passionate proponent of interfaith programming and is involved in numerous interfaith initiatives throughout the Detroit area, serving on the Executive Committee of the Coalition for Black and Jewish Unity.
---
Registration is required for this class. To register, please click the Register button below.
---
Join this class on zoom here.