September 2021
Dear Kirk family,
I didn't expect Grace to ask about church.
Amidst all the getting ready for her first year of college - the trips to Target and Costco, packing and sorting, aligning with roommates - I didn't think "church" would be part of my oldest daughter's prep work.
"What am I going to do about church?"
It was an honest question to her pastor dad, and I didn't have much of an answer.
Her experience at the Kirk has been so incredibly rich. She took part in almost everything our church has to offer young people. She was an acolyte, went on mission trips, sang in the choir, enjoyed the wondrous holiday traditions, went through confirmation, and so much more.
These days it is no easy task to find a church like the Kirk. It is rare. So rare.
So I had to tell her, "Wherever you go is going to be different. I'm going to guess that the churches you visit will have very few people like you."
How will they be different?
Likely they will be older.
Likely they will have different opinions on what worship should be like and what mission is about.
Likely they will not have classes and groups for people specifically like you.
On the one hand, I feel bad for her because of that.
But on the other, it is a good thing for all of us to put ourselves in settings where we are a little different from everyone else. It helps each of us, no matter our age, to grow and mature.
It is one of many things that we can learn from Ted Lasso.
Ted Lasso is the title character of an Apple Network comedy show. He is an American football coach plucked up and planted in the United Kingdom as a soccer coach. The show is all about fitting in to a new culture and doing life (and soccer) with people that see the world differently. Ted's unique naivety is part of what really makes the show work.
He even asks at one point (referring to the UK), "How many countries are in this country?"
"Four," his assistant coach informs.
Ted responds, "Kinda like America these days."
Ted is right. He is right about a lot of things, but he is right about how we divide ourselves up and create many countries. Choose your border maker - masks, vaccines, race, presidential candidate, age, and on it goes. We do it with churches too, creating borders between worship styles, biblical assumptions, and so on.
This fall's sermon series, A Place in this World, is meant to be a reminder of how we belong to God and one another - in spite of what we think deserves to divide us. I continue to hope that the Kirk will be the kind of place where people can come and create friendships with those that they are normally bordered off from. Let it be so as we take part in all of the amazing opportunities that we have organized for this fall. An enclosed brochure outlines it all.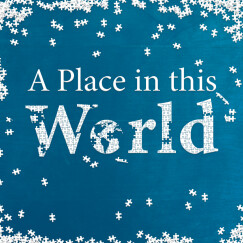 Of special note, please join us for Homecoming Weekend! On September 11th at 7pm, we will host an "Evening Prayer for 9/11 (20th Anniversary)" and September 12th at 10am will be our All-Church Garden Service followed by a picnic and festivities on the front lawn. Beginning September 19th, our services will be at 8, 9, and 10:30 am- with online options at 9 and 10:30 am.
This fall, my oldest daughter will be going to some church ten hours from the Kirk, hoping that it will help her find A Place in this World. I hope she finds a church that will offer her that. In the same way, I hope that every daughter and son that feels left out, left behind, or left alone will come to the Kirk and find a sense of belonging in the Spirit of God and the love of our community.
Stay warm,
Pastor Nate